Trailer de la película"Prince of Persia: The sands of time"
Posted By
Team VIP
on
November 8th, 2009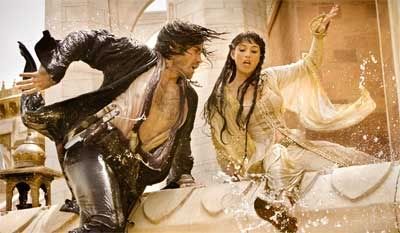 Trailer de la película Principe de Persia, basada en el famoso juego, estreno el 28 de mayo del 2010.
VER EL TRAILER AQUI!!
"Prince of Persia: The sands of time"  Cuenta con la dirección de Mike Newell, un guión formado de la colaboración de Doug Miro, Jordan Mechner, Boaz Yakin y Carlo Bernard, y las actuaciones de Jake Gyllenhaal y Gemma Arterton junto a Alfred Molina y Beng Kinsley. Se trata de una adaptación del videojuego homónimo. Todo comienza cuando un rey y su hijo derrotan al Maharajá y encuentran un enorme reloj de arena y una daga. El visir los engaña, logrando que (desconociendo ellos el poder de estos elementos) se liberen las arenas del tiempo, que convierten a todos los presentes en estatuas de arena, metiendo al hijo en la misión de detener esto antes de que la ciudad entera acabe así, motivado también por ver a su padre en este estado. En medio de su tarea conocerá a Farah, la hija del Maharajah.
La cinta llegará a los cines el 17 de junio de 2010, pero para aguantar la espera, ya podemos conocer el trailer oficial de Prince of Persia: The sands of time.
Share on Facebook
Facebook comments:
Tags: ESTRENO, lanzamiento, movies trailer, PELICULA